Ville Lang z Finska, jeden z nejlepších Evropských hráčů, účastník OH, oznámil konec své kariéry. Fanoušci badmintonu ho mohli vidět v Brně, byl pravidelným účastníkem MMČR.  Ville proslul svým specifickým pojetím badmintonu, úsporným pohybem po kurtu a v posledních letech i vizáží

. Na svém fcb profilu obsáhle komentoval konec badmintonu i pohled na svou kariéru, který Vám přinášíme i zde (aglicky, zdroj fotek: fcb profil Ville Lang):
"This will be officially my last post as a professional badminton player… After so many years on tour, playing all kinds of tournaments from lowest grades to most illustrious tournaments i have decided to retire. First i need to tell you it has been one hell of a ride! The best thing for me has been playing in numerous different countries meeting people from different background and learning about life itself so much. Most important thing though has been the process i have been through as a person myself. I have had to face difficulties all alone in a shitty hotel room in some cities i didn't even know existed before i went there......
Tried to gather my thoughts and pieces of self-confidence in very limited time as usually there was next tournament waiting next week. More than many times my faith was put in test by myself asking am i really going to reach my goals which i had set. Many of the times people who were watching me outside thought i had limitless self-confidence, well now i can say that most of the times it was all faked, it was faked on a sole purpose of making me believe more in myself as well as making my opponents think that i was self-confident when i really wasn't.

Did i reach my goals in the end?
I did not reach all of my goals which i had set for myself many years ago. These unreached goals were to be top-10 in the world ranking and winning European championships medal. If someone thinks if that bothers me now. I can from the bottom of my heart say it doesn't. I know i had abilities to be much better physically. Technically i was very much incomplete. But one thing which gave me a chance of playing the game as high as i did was my mental strength, i could always rely on it. Going on court i almost never felt that my mental strength would let me down.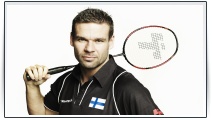 Thinking back, which gives me great amount of satisfaction, is the fact that i beat many players who were much better badminton players than me on many technical or/and physical aspects than me. Somehow i was just able to tear them down and turn that game of badminton into a game of will. Talking about goals. I am after all very satisfied and proud what i have achieved as a player. Altogether 15 international tournament wins, which obviously the biggest one is never fading memory of Scottish open 2014. I won Finnish nationals 10 times in a row. Reaching the world ranking of 21. We won European bronze medal as a team in Basel. I competed in Beijing 2008 reaching 9–16 and Getting Sisupuukko (honor given to athletes that showed some great sisu during games) from Finnish olympic committee. I was competing in London 2012 against Lee Chong Wei in front of the president of Finland. Who later on wrote me a letter.

I mean starting to play badminton 21 years or so ago i could have never dreamed of something like that. So hell yeah i can look back and say to myself i did good. Obviously i haven't done any of this alone. i have always had few good men on my corner. I am not going to name all of you otherwise this would be a book not a Facebook status but you guys know who you are and i am forever grateful to you and i hope to pay some of it back in future. Of course i want to thank all my sponsors, there has been so many of them varying from one man company to multinational ones. You gave me a chance to live my dream and aim higher year after year. I thank each of you equally, you made it possible.
MY FAMILY Where to start. Well lets just say i would have stopped playing badminton at the age of 15 if they didn't make the sacrifice i could never make myself. Thank you MOM, Thank you DAD , i know you have been watching me from heaven. My gratitude towards my parents is way beyond words.
From now on i will start a new chapter in my life. The one i have been looking forward to for years. The one i am so so grateful to have a chance to do. I will fully concentrate on my family. No more of these trips abroad to chase that sometimes so mischievous shuttlecock. Not these long hours spent in training hall without them. I believe this will be by far the best chapter so far in my life.

I hope you enjoyed the show, because i sure did enjoy put up one.
Only one more thing to say.
Lungi out.